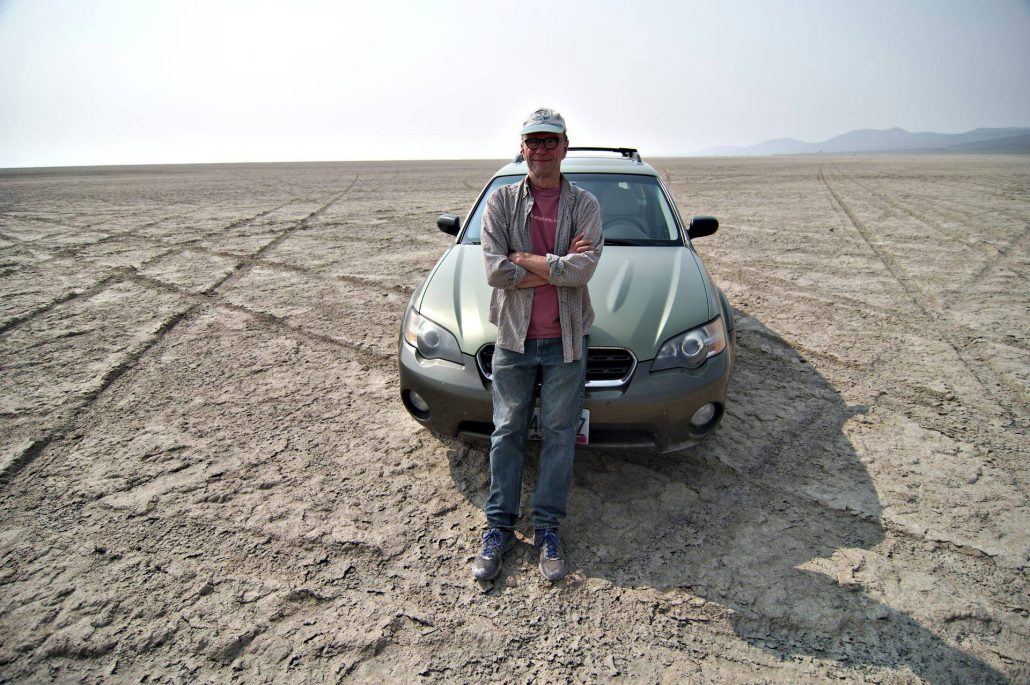 I've been fascinated by photography since I was 11 years old and found an old Brownie box camera in the closet at my parents' house in Los Angeles. I still have the photos I took in those days, ordinary scenes from the living room and back yard, transformed by magic into black and white images.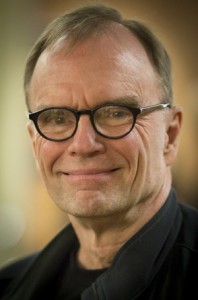 My main career was in newspapering — as a writer, not a photographer. After graduating from Harvard in 1975 with a bachelor's degree in history of religion, I spent four decades as a newspaper reporter before retiring in 2013 to pursue landscape photography and independent writing.
Much of that career involved writing about art and music, and in 2006 I was a fellow at the National Endowment for the Arts' Journalism Institute for Theater and Musical Theater in Los Angeles.
I've been making and selling hand-colored black and white landscape photos since 2002.
I have shown my work at the Karin Clarke Gallery and the Jacobs Gallery in Eugene, at the Arts Center in Corvallis, and at the World Forestry Center and the Blue Sky Gallery in Portland.
In my free time I am arts editor of Eugene Weekly, the alt weekly paper in Eugene. For three years I ran Eugene Art Talk, a subscription blog about the fine arts in and around Eugene. I am a past president of the Lane Arts Council. I live on 18 wooded acres outside Creswell, Oregon, with my wife, Lisa Strycker.
Our son, Noah Strycker, is a bird photographer, illustrator, and writer, and is associate editor of Birding magazine. He is the author of Among Penguins, an account of a season studying penguins in Antarctica, and The Thing With Feathers, a series of essays on bird behavior. In 2015 he set a world record for the most species of birds – 6,042 – ever seen by one person in a calendar year. His book about the experience, Birding Without Borders, was published in 2017. His fourth book, a collaboration with photographer Joel Sartore, came out in 2018.
Selected Exhibitions
Yellowstone Art Auction 53, January-March 2021 at Yellowstone Art Museum, Billings, Montana. Two hand-colored photos accepted.
Art About Agriculture 2020: "Replanted Fir 2020.6.1" won the Margaret Hogg Art
About Agriculture Purchase Award in this juried show at Oregon State University.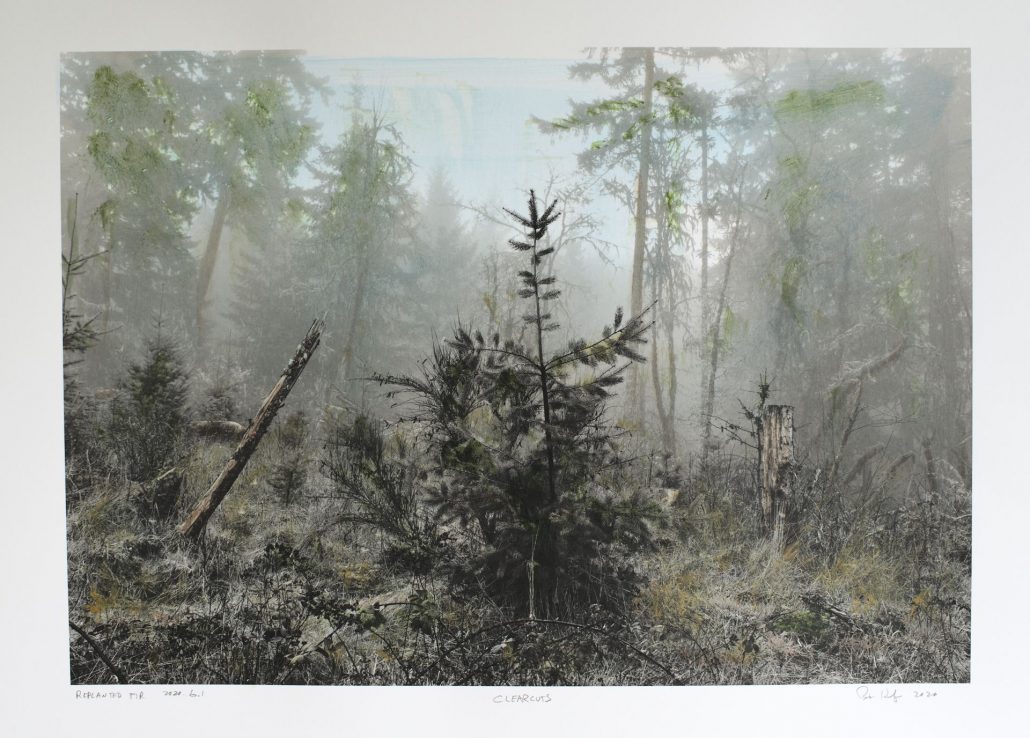 Eugene Biennial 2020: "Burn Near Table Rock 2019.15" was juried into this show at Eugene's Karin Clarke Gallery. The exhibition is scheduled for August.
Around Oregon Annual 2020: My photo "Clearcut in the Fog 2020.5" was accepted into this exhibit at the Arts Center in Corvallis. Juror was Jane Brumfield from Imprint Gallery in Cannon Beach.
Jones Gallery, Kansas City, Mo: "Two Elk 2019.16" shown in May exhibit 2020.
R.G. Endres Gallery International Juried Photo Competition 2020 in Prairie Village, Kansas "On the Edge Trail 2019.36" was awarded Best in Category.
Artworks Northwest 2019: My photo "Blue Diamond 2018.36" took the second place award at this exhibit at the Umpqua Valley Arts Center in Roseburg. The juror was Danielle Knapp, a curator at the Jordan Schnitzer Museum of Art.
Eugene Biennial 2018: My hand-colored photo "Elder 2018.6" was chosen for this juried show at Eugene's Karin Clarke Gallery.
Sparky in the Woods, a solo show of hand-colored photos, was exhibited at the Laurel Fischer Gallery at The Tate in Eugene, Oregon, in fall 2017.
Eugene Biennial 2016: My hand-colored photo "East of Steens 2016.8" was chosen for this juried show at Eugene's Karin Clarke Gallery.
Around Oregon Annual 2016: My hand-colored photo "Blowdown 2016.5" received a juror's award in this group show at the Arts Center in Corvallis in June 2016 by juror John Olbrantz, director of the Hallie Ford Museum of Art.
Among Trees, a solo show of hand-colored photos from the forest and from Malheur National Wildlife Refuge, during June 2016 at InEugene, Eugene, Oregon.
ROT: The Afterlife of Trees, a 2016 exhibit at the Arts Center of Corvallis and then at the World Forestry Center in Portland, included two of my very large (24×72) tree portraits along with smaller work.
Forest Investigation, solo show of work from H.J. Andrews residency, was exhibited in spring 2015 at the Jacobs Gallery, Hult Center for the Performing Arts, Eugene, Oregon.
Expressions West 2014 Exhibition at Coos Art Museum. My hand-colored photo 'Rose' was selected for the annual juried show.
Blue Sky Gallery, Portland, Oregon. Drawers Exhibition 2013 (April 2013-March 2014)
Karin Clarke Gallery, Eugene, Oregon. In 2009 I curated a show of photography at the gallery that included work by Brian Lanker, Craig Hickman, Robin Cushman, Franklin Miller, Dennis Galloway, Annie Frantzeskos, and myself.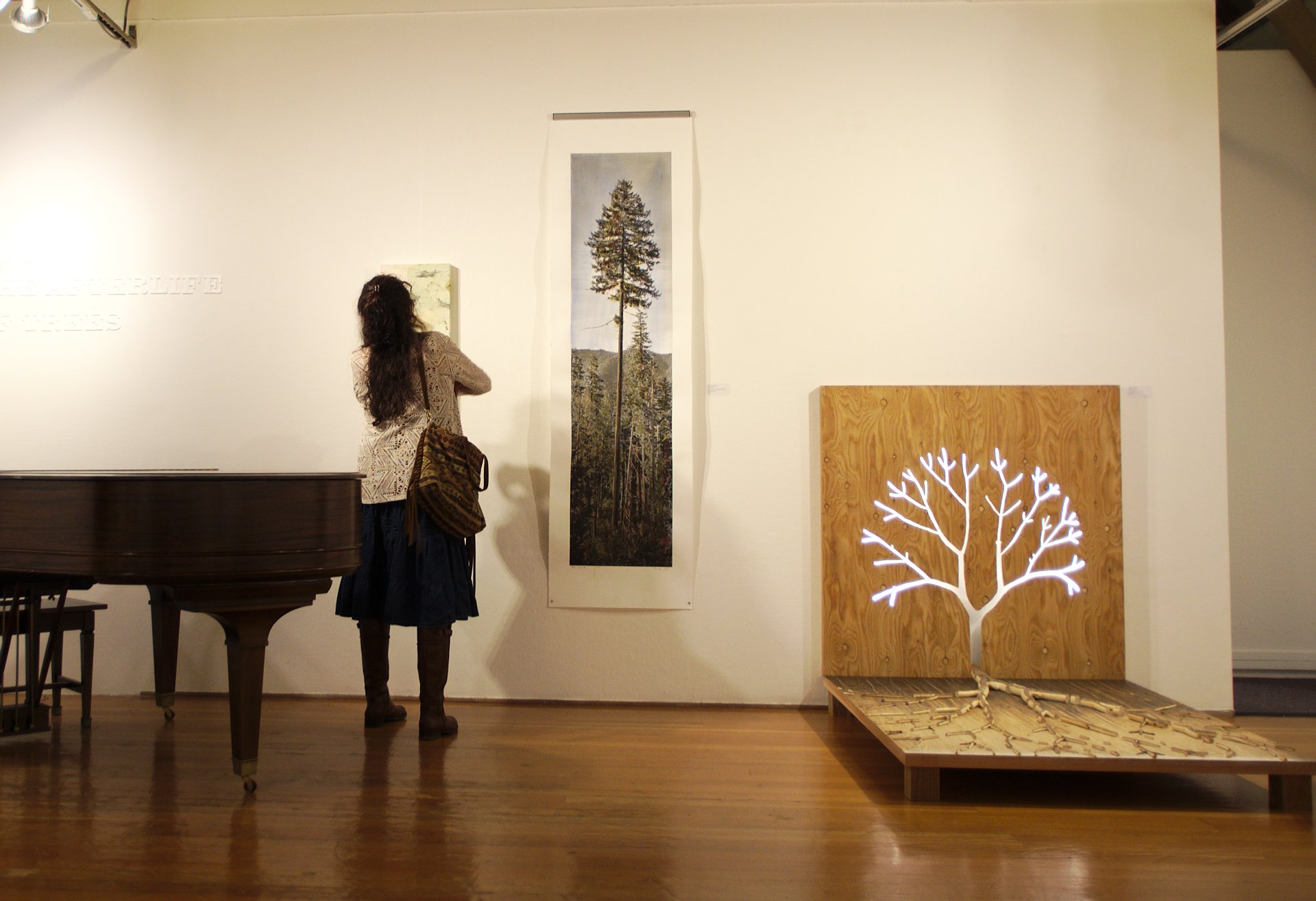 Residencies
Artist in residence at the Brush Creek Foundation for the Arts, Saratoga, Wyoming. October-November 2016.
Visual artist in residence, H.J. Andrews Experimental Forest, Blue River, Oregon, spring 2014 and 2015.

Publication
A series of my black and white photographs was chosen to illustrate Forest Under Story: Creative Inquiry in an Old-Growth Forest, a collection of essays and poems about the H.J. Andrews Experimental Forest, published by the University of Washington Press in spring 2016.
Press
"Into the woods with Bob Keefer." Oregon ArtsWatch, October 7, 2020.
My series of hand-colored photos "Sparky in the Woods" was featured by the French photo site L'Oeil de la photographie ('The Eye of Photography') in December 2017.
"Talking Art and History with Bob Keefer of Eugene Art Talk," in Lane Monthly, October 2015.
"Photographing the Northwest," in Lane Monthly, May 2015.